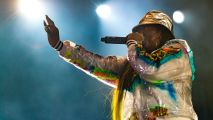 Famed rapper Missy Elliott has joined the chorus of people seeking answers in the death of 19-year-old Kenneka Jenkins, whose body was found in a suburban Chicago hotel freezer over the weekend.
Photo Credit: Getty Images
This story uses functionality that may not work in our app. Click here to open the story in your web browser.