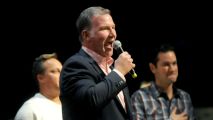 The Chicago Blackhawks are about a month and a half away from hitting the ice, but anthem singer Jim Cornelison is already in midseason form.
Photo Credit: Getty Images
This story uses functionality that may not work in our app. Click here to open the story in your web browser.