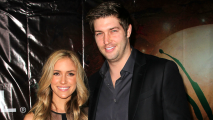 A few weeks ago former Chicago Bears quarterback Jay Cutler was all bundled up as he played in the snow following his release from the team. Now, he has exposed a whole new side of himself and taken the…
Photo Credit: Getty Images
This story uses functionality that may not work in our app. Click here to open the story in your web browser.