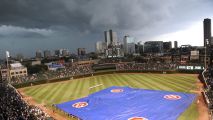 The Chicago area could see rain and possibly strong to severe storms Monday afternoon and evening, just ahead of the Chicago Cubs' home opener at Wrigley Field.
Photo Credit: Getty Images
This story uses functionality that may not work in our app. Click here to open the story in your web browser.